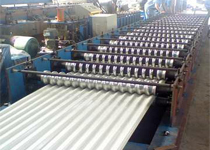 Our Corrugated Sheet Making Machine is for producing Aluminium or stainless steel roof channel ot corrugated sheet channel. Our Roll forming machine complete with the Roll Tool suitable to produce the foamed rolling shutter Channel in various sizes, inline foaming, punching and cutting. Rolling shutters now have become extremely popular in all our the world.
D coiler 1 ton cap.
Entry Gate with
Roll Forming Line with 10 station , 1Gear Boxes & 2H.P. electrical.
Control Panel semi auto
Cutting Unit (manually )
Technical Specifications : (Plate Body Type)
Maximum sheet width that can be formed : 160 mm
Maximum sheet thickness in CRCA Strips that can be formed : 1.25 mm
Horizontal distance between shafts : 150mm
Number of forming stations : 8 nos.
Vertical station : 5 nos.
Total HP for Line : 2
Speed of the machine : 5mt/minit
Size of machine : 1400 x 800 x 1000 mm
Mandrel Uncoiler
Coil weight : 1 MT Max
Coil width : 190 MM
Coil bore : 450 MM min, 510 MM max dia.
Mandrel movement : Manually adjusted
Back Tension : Manually adjusted
Entry Gate
Entry gate will be provided for movement of sheet to roll former.
Main Base
The main base is MS fabricated structure" C " channel . It is accurately machined on top and bottom surfaces the threaded holes are made on the bed for positioning the stands.
Mill stands (Station)
Plate type
Roll shafts
The roll shafts dia. 50 mm will be manufactured from quality steel and will be keyed to locate tooling.
Drive
The drive to the roll former will be by means of a gear box system. The main drive will be provided by means of 2HP motor
Tooling
One set of Tooling with EN31 grade will be from imported material suitable for your machine as standard supply. The same is involved in operations like rough machining, keyway, rough profiling, profile machining and inspection with final template for above.
Cutting Unit (manually.)
Cut off machine